Hearing Aids Technology
Hearing aids are a key aspect of auditory rehabilitation as they will greatly improve the quality of life for someone with a hearing loss, as well as those around them. This is because hearing aids work by amplifying important sounds, such as speech, to ensure that the user is able to participate in activities. This in turn prevents the negative effects of a hearing loss such as depression, limited social interaction, cognitive decline, loss of relationships, and issues in work and academic settings.
Fundamentally, all hearing aids regardless of style, manufacturer, or technology level, consist of the following components:
Microphone – The hearing aid's microphone works to receive auditory signals and converts them to electrical signals.
Processor – Makes the electrical signal louder
Receiver – Converts the now amplified signal back to an acoustic signal and sends it to the ear canal
Battery – Powers the device.
However, the function and ability of each hearing aid varies greatly depending on its technology level, as this affects which features are provided to the user. As the technology level increases, so do the number of features and their quality. Furthermore, the features become more sophisticated, making higher technology levels optimal for users who encounter more dynamic social environments.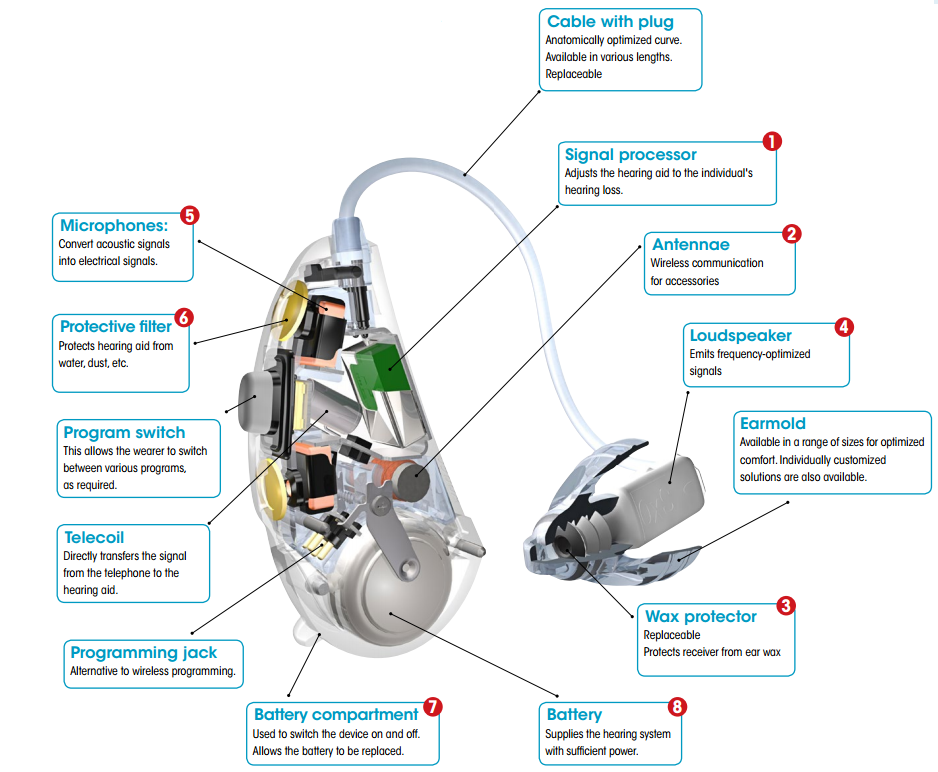 Therefore, when choosing a hearing aid, it is imperative that you look at your lifestyle and when you need the assistance of an amplification device most, as well as the type and degree of your hearing loss. The number of technology levels available depend on the manufacturer but most follow the format of basic, standard, advanced, and premium. In addition, the price of the hearing aid depends on the technology level chosen as opposed to the style. All technology levels will almost always be available in each hearing air model.
Features
The higher the technology level; the more features you are provided, and the better the features are. The features that are found in each technology level also vary between manufacturers as not only is there a discrepancy in technology levels available, but some manufacturers may have exclusive features. In addition to this, the level of channels and programs can also vary. A program is a pre-set listening situation where the setting for each is tailored to optimise each individual environment, such as when there is more noise than speech, or for using the telephone or television. The more channels a hearing aid has, the more customisable and flexible the programming is as there is more access to different frequencies. The inclusion of automated and binaural features is also more prevalent in the higher technology levels.
Basic Technology Level
As the name suggests, Basic technology levels contain the least number of features, and are generally features that will only benefit those with quieter lifestyles, and in social environments with minimal background noise. It works optimally in quiet environments and in one-on-one conversations. They are seldom automatic, meaning that the user is required to make the appropriate adjustments manually. This technology level also has the least number of channels, meaning that only a few environments will be processed accordingly. Basic technology level aids have limited adjustments that can be made regarding fine tuning and customisation. However, a Basic level hearing aid can still benefit those with a hearing loss and should therefore still be considered a viable option for rehabilitation. Although Advanced and Premium technology levels offer significant benefits, excellent results can still be obtained from a Basic aid.
Standard Technology Level
The next level up is the Standard technology level, which will provide more features that pertain to different social environments, such as when there is moderate background noise or in small group settings. The features found in this level will be more advanced than those in the Basic level, and made to help the user hear in slightly more difficult environments. Although this level may not work as well in loud environments, such as a bustling shopping centre or restaurant, wireless hearing aid accessories can be used in conjunction to make up for any deficits. Although they add to the expense, the benefits they provide are undisputed.
Advanced Technology Level
Perfect for those with more social and active lifestyles, the Advanced technology level provides features to further attenuate loud background noise, such as through Automatic Sound Processing, Directionality, and Noise Management, and removes unwanted sounds using Wind Noise Reduction and Feedback Cancellation technology. It provides better background noise reduction while retaining the audibility and clarity of speech signals. It is optimal for those who need more assistance in meetings, or in group settings. Although there are still differences that can be found between most Advanced and Premium levels, the Advanced technology level is almost as good. This level will show real benefits in reverberant environments such as auditoriums or churches, and when listening to music.
Premium Technology Level
This is the top-tier of technology levels, and includes everything that the hearing aid can provide, including features specific to certain environments and signals. Furthermore, they generally feature more advanced versions of features found in the other levels – making this level unparalleled and inarguably the best, especially for those who lead extremely social lives and enjoy spending their time in less than optimal listening environments. This level is designed to function in complex environments while still delivering clear speech and natural sound. It provides the best level of speech perception, in which speech is detected and amplified without having noise amplified. Another advantage includes comfortable and natural listening, both indoors and outdoors. This is also the level where binaural processing is available or optimal. Binaural processing provides a natural and clear signal by utilising and comparing the inputs of both ears. It is important to remember that even with all the features and unparalleled quality, normal hearing will not be obtained. However, this may the closest you will get to it.
Contact us on 1300 848 335 today for a free, no obligation consultation with a qualified consultant, or for more information regarding the individual differences in technology levels between manufacturers.