2019 Hearing Aid Innovations
What's on the horizon for hearing aid technology in 2019? Well there's plenty to be excited about. More and more people are choosing their hearing aids not only for their hearing loss but for all the other amazing things they can do. Hearing aids are moving towards 'wearable health technology' (wearables/healthables) and multifunctional communication devices. Let's have a look at what's in store for 2019.
Technology winners
Two hearing aid technologies have made the CES 2019 Best of Innovation Awards Honorees list.
Fuel Cell Technology By Widex
Firstly, Widex continues to be an environmental warrior with the development of the world's first battery-free hearing aid in their EVOKE hearing aid model. The Widex Energy Cell technology was named an Honoree in the Fitness, Sports and Biotech category. It works off a miniature fuel cell that utilises a reaction between oxygen and methanol. This electrochemical process is completely safe and, in just 20 seconds, your hearing aids will be completely recharged for 24 hours of use. And you don't even need a power point for the charging device.
Watch this short video to see how it works!
You won't have to worry about changing your battery ever again with this invention. You will also save on the cost of over one hundred batteries a year – and you'll be helping the planet along the way. The Widex Evoke Energy Cell hearing aid will be available in the second half of 2019, and is a wonderful addition the machine learning EVOKE hearing aid.
Kaizn AI Assistant by Oticon
The second hearing aid award winner for 2019 goes to Oticon. The Oticon Kaizn World's First AI Assistant for Your Ears not only made the Honorees list for a Better World Category but was also named Best of Innovation in the Software and Mobile Apps category. The Oticon Opn hearing aid models will use this smartphone app. It engages with artificial intelligence, to learn all about your listening preferences from your past behaviours.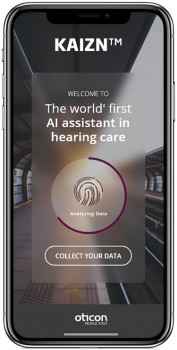 It remembers your habits and the environments you most visit. Using this information it will then calculate the best listening algorithm for your present listening location. By collecting and analysing your personal hearing aid use, Kaizn can optimise each and every listening scenario for you in real-time adjustments. It may even become (in the fture) your very own personal assistant. The Kaizn app will be available in 2019.
Best hearing aids for 2019
So we've seen what Widex and Oticon have been working on for 2019, but what about the other major players? What have we got to look forward to from them in terms of hearing aids?
Phonak: Audeo Marvel:
Released in 2018, with the full range coming late 2019, this hearing aid is second to none. Currently it is the only hearing device that utilises Bluetooth Classic to stream audio directly from both Apple and Android products. The AutoSense feature enables full automatic adjustments – the wearer doesn't need to use the push button to alter hearing aid parameters. You can get this hearing aid in a lithium-ion rechargeable device (hyperlink to rechargeable battery article). Phonak is known for its excellent hearing device accessories, particularly the Roger FM systems. The Marvel models coming out late in 2019 will be 'Roger Ready'. This means you will be able to directly able to access these devices from your Marvelous hearing aid.
Starkey: Livio AI
The hearing aid with artificial intelligence, to be released in April 2019. With the Livio AI you will get binaural processing of sound, automation and natural sounding speech to optimise your hearing. But that's not all. The Livio AI is a multifunctional device that takes hearing aids to the next level. Using on-board sensors this hearing aid will not only help you hear, but will track your body movement and social interaction. This 'healthable' wearable device aims to improve health outcomes by providing users with a brain and body score. It also comes with many other convenient features, making this the fore-runner in multifunctional communication devices for hearing aids. Other features include:
Voice-to-text Transcription – real-time language translation (when connected to the internet)
Fall detection and alerts – if you fall, an alert notification will be sent to your loved ones
Heart Rate Measurement – in-ear receivers provide heart-rate feedback for added health tracking
Thrive Virtual Assistant – just ask Google and the answer will be delivered directly to your hearing aids
Bluetooth streaming directly from Apple devices – connects to Android products through Thrive smartphone app
Tap Control – you can control your streaming by tapping your hearing aid twice to mute streamed signal if you want to hear sound from a different source. Tap it twice again to restart the streaming.
Receive notifications of phone calls, texts and emails.
Siri (iPhone users only) will read your texts and emails directly to your Livio AI hearing aids.
Remote programming from your Hearing HealthCare Professional through Thrive app.
Lithium-ion rechargeable batteries will be available with this hearing aid in 2019.
ReSound: LiNX Quattro
Along with its long lasting lithium rechargeable batteries, this hearing aid has the capability of streaming directly from Android devices, as well as Apple devices. The LiNX Quattro rechargeable lithium-ion battery delivers the longest use time of 30 hours after full charge. It has the smallest charger case on the market, which provides three recharges on-the-go.
What's exceptional about the LiNX Quattro is that the full sound and balance you get from your hearing aids is carried over to Bluetooth streaming as it utilises superior full spectrum Bluetooth streaming for any smartphone. According to research you'll get 50% greater speech clarity on the phone with the streaming capabilities of the LiNX Quattro The ReSound Smart 3D is one of the best smartphone apps on the market today. It allows you to be in control of your listening environment as you fine-tune your hearing aids to your preferred listening soundscape.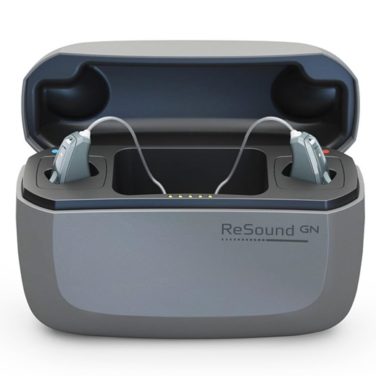 Unitron: Moxi All
This hearing aid boasts the unique Flex Upgrade system. This allows you to purchase a lower level of technology and upgrade it to a higher level of technology at a later date, if required. This works well if you're not sure you'll need all the features in the higher performance levels. You can trial a particular technology level, and if you think the hearing aid is not meeting your expectations, you can upgrade.
You won't have ot change the actual physical device, you will just have the technology inside of your hearing aid improved. This way you can move up to the more advanced technology when required. There will be an extra cost for the upgrade – but you can choose to upgrade at any time, whenever your budget allows for it.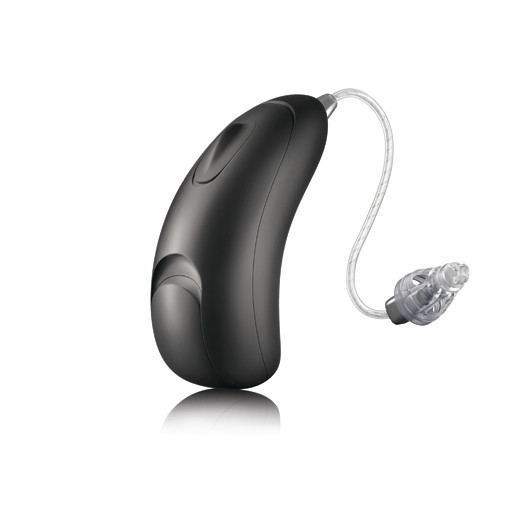 Signia: Styletto and OVP
Signia has taken their research in a couple of different avenues and has come out with some unique innovations in the last couple of years.
Own Voice Processing (OVP) – was first released in 2017. It focused on one of the biggest complaints of hearing aid users – their own voice didn't sound natural. This was also a big reason for people to reject their hearing aids. Now with Signia's Nx platform, OVP gives back the natural sound of the user's voice. This is done by the hearing aid processing your voice separately from the rest of the sounds entering your hearing aid. This enables natural voice quality and helps you acclimatise to your hearing aid with ease.
Styletto – welcome to hearing aids with style. 2018 and 2019 will see new terminology around hearing aids – wearables, healthables and now, with Styletto, hearwear. Signia has created this slim, stylish device after looking at technology style trends in today's high-tech world. Their research led to a change in battery style – lithium-ion pin-rod battery, which is rechargeable. The hearing aid looks like jewellery with its shape and metallic colour. Hearing aids can now be seen as a fashion accessory, as well as communication devices.
What else can we expect (oh crystal ball)?
The next 12 months will be an exciting time for hearing aid technology and we can expect some advancements in the following areas:
More rechargeable options for hearing aids, including the emergence of rechargeable custom made hearing aids.
Shape and style of hearing aids. Signia have shown us with their new Styletto that we are open to changes in how our hearing aids look. We want them stylish – not looking like a prosthetic device. We may see future hearing aids having the appearance of wireless earbuds.
More companies developing multifunctional communication devices