Bluetooth Hearing Aids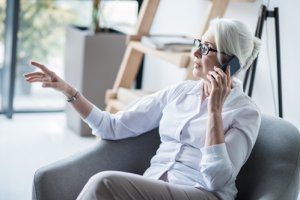 Modern hearing aids can now connect with devices such as TV's, mobile phones and other devices wirelessly either directly or with the help of hearing aid accessories.  Hearing aids used to be notoriously difficult to use with mobile phones as they didn't pick up the sound from the phone speaker but no longer.  Bluetooth hearing aids have built in wireless chips which  allow you to stream audio directly from your phone or TV to your hearing aid.
What this also means is that you can hear the TV better without having to constantly raise the volume and bother other family members. At Hearing Choices one of the most common questions we get are for people looking for hearing aids that can stream audio from their mobile phone.
Hearing Choices has a network of audiologists around Australia, you can save up to 40% compare to regular retail pricing on Bluetooth hearing aids.
With Bluetooth or wireless enabled hearing aids, you can effortlessly connect to a number of different devices including;
Mobile phones;
Televisions;
Computers; and
Tablets.
The Top 5 Bluetooth Hearing Aids:
We work with all the major hearing aid manufacturers, below you can find some of the latest wireless or bluetooth enabled hearing aids:
1. Oticon OPN:
Features
Made for iPhone direct streaming, Android streaming available with an accessory.
2. Resound Linx 3d: 
Made for iPhone direct streaming, Android streaming available with an accessory.
3. Phonak Audeo B Direct:
Made for All, iPhone and Android direct streaming.
5. Starkey Halo 2
What if I have an android device?
Phonak recently released the world's first "Made for All" hearing aid with the Audeo B Direct, this allows you to stream to both iPhone and Android devices. . But do not fear, with most hearing aids you can still stream audio through the use of a small accessory which converts the Bluetooth signal into an FM device which your hearing aid can pick up.
How Do Bluetooth Hearing Aids Work?
There are two main ways to connect your hearing aid with your devices:
Through the use of a small streaming accessory which connects with your personal electronics via Bluetooth and then converts it to an FM signal which is sent wireless to the hearing aid.
If the hearing aid is Made for iPhone™, you can pair it directly to your Apple device without the need for a streaming accessory.
Recently Phonak has released the first Made For All device which can stream calls to both iPhone and Android devices.
What are some other benefits of Bluetooth Hearing Aids?
There are a number of other benefits of Bluetooth hearing aids besides being able to stream audio from different devices.
Control and Adjustments
One of the other major advantages of Bluetooth hearing aids is that you can connect them to your phone through a hearing aid app giving you unprecedented control and adjustment of your hearing aids.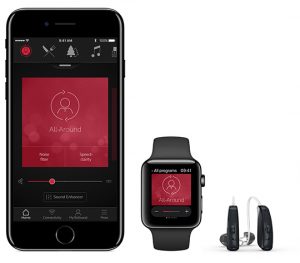 You can now use your phone to adjust the program on your hearing aid based on your listening environment. Your Audiologist can set up customised listening programs for your hearing aids and you can easily adjust them using an easy to use app on your phone. This means that you can select the perfect program based on your listening environment that perfectly matches your hearing loss.
You can also use your phone to adjust the volume of the hearing aid without having to take out the device, which may be inconvenient.
One convenient feature that some of the manufacturers have enabled is "Find my Hearing Aid" which uses Bluetooth to help you track your hearing aids if you lose them, handy!
Clearer Sound
With the release of Bluetooth 4.0 technology, Bluetooth hearing aids can now use less power which means better battery life as well as crystal clear audio. Your hearing aids will also turn off the microphone during phone calls which helps in preventing background noise, whistling and other distractions.
You can pair your hearing aids with a number of devices at once and your hearing aids will automatically switch between them seamlessly. For example, if you have paired your hearing aids with your GPS device, your hearing aids will automatically switch the audio to your phone for an incoming call and then switch back to the GPS device when the call is over.
How much do Bluetooth Hearing Aids Cost?
Thankfully, you don't pay more for Bluetooth features in hearing aids. Hearing Choices's hearing aid prices are up to 40% cheaper than the large retail clinics. Prices for basic level hearing aids start from around $1,300, mid level from $2,450 to $3,000 and advanced or permium level hearing aids from $3,000 to $4,000.
If your hearing aid doesn't stream directly from your phone, you can still purchase a relatively inexpensive accessory to enable wireless streaming from all your favourite devices.
Want more information about bluetooth hearing aids?