Hearing Aid Accessories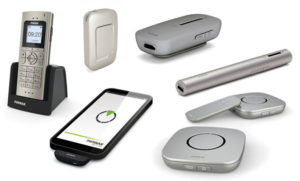 Although hearing aid technology has only improved, there are some environments and circumstances where they are not enough. In order to overcome this limitation, hearing aid manufacturers also design hearing aid accessories with a number of uses for different situations. The function of hearing aid accessories includes remotely controlling the settings of your hearing aids, and streaming audio from your television or laptop directly to your hearing aids. While they are not a necessity for everyone, regardless of the function, hearing aid accessories are available to make your hearing aid use easier and more convenient.
Hearing Aid Bluetooth Accessories
Unitron uStream ($280): allows for stereo-quality sound streaming from your audio devices directly to your Unitron hearing aids. The device is discreet, and is compatible with hearing aids from the Tempus and North platforms, as well as other accessories such as the uMic and uTV 2 and 3. This device can also be used as a remote control to adjust your hearing aids depending on the listening environment.
Phonak ComPilot II ($300): connects your Phonak hearing aids to a number of audio sources via Bluetooth to provide clear sound. This can be used in conjunction with the Phonak TVLink or Phonak RemoteMic. This streamer can provide up to 24 hours of streaming time, meaning you can use it all day and have it charged and ready for the next.
ReSound Unite TV Steamer 2 ($385): this streamer works specifically with your television to provide you clear stereo-quality input, without you having to turn up your television volume at an uncomfortable level. This means that you can enjoy the company of your family for the next movie night. All ReSound Smart hearing aids and televisions are compatible with this device.
Oticon ConnectLine Streamer Pro 1.3A ($400): with no detectable delays when transmitting audio to your wireless Oticon hearing aids, this streamer is perfect for those who wish to have clearer audio when watching television or using their computer. It is worn around the neck and can connect your hearing aids to multiple devices. It is also compatible with all ConnectLine devices.
Siemens easyTek Bluetooth System ($445): this extremely discreet streamer can connect a multitude of audio devices via Bluetooth directly to your hearing aids. It is worn around your neck, and can be worn under your clothing for added discreetness. From there, it can allow you to control what device your hearing aids are connected and streaming from. It can also be used in conjunction with the easyTek App for added convenience. This device also acts as a remote control.
Hearing Aid Phone Accessories
Widex Uni-DEX ($170): this device is worn around your neck and functions by being connected to your phone using the mini-jack to directly stream audio to your hearing aids. As it has a universal jack, it can be used with any device that shares it, including your iPod or iPad. The battery life is 40 hours, perfect for those who use their mobile phone more than a landline.
ReSound Unite Phone Clip + ($365): this device uses Bluetooth to connect your hearing aids with your mobile phone. This can ensure that you can confidently talk on the phone, and never miss a call again. The device itself should be clipped on your clothes to provide hands-free use. If it is used in conjunction with the ReSound Unite TV Streamer 2, where a phone call will override the audio from the television so that you can see when you get a call, even when your hearing aids are connected with another device.
Phonak EasyCall II ($400): this device connects your hearing aids and mobile phone using Bluetooth so that speech is clear, regardless of where you take the call. Unlike other streamers, the Phonak EasyCall II is attached to your mobile phone so that you can never lose or forget it.
Starkey Surflink Mobile 2 ($650): this diverse device works not just a cell phone transmitter, but additionally as an assistive listening device, media streamer, and hearing aid remote. The Starkey SurfLink Mobile 2 turns your hearing aids into the phone's microphone and receiver by having the hearing aid's microphone picking up your voice and transmitting it to the other person, while the receiver directly receives the phone's signal. Furthermore, it can wirelessly stream any music device using Bluetooth. Finally, it also has its own microphones which can be used as an assistive learning device.
Hearing Aid Remote Microphone Accessories
Unitron uMic ($260): a wireless microphone that allows the user to hear the speaker, even in difficult listening environments, such as a classroom. This microphone is attached on the speaker via a lanyard or by being clipped on, and sends the audio via the uDirect 2 or 3, or uStream streamers. It can send the signal at a distance of up to 20 metres.
Phonak Remote Mic II ($280): The RemoteMic is clipped onto the speaker, where it then sends the voice directly to the hearing aids over a distance of up to 20 metres. It has up to 8 hours of battery meaning that it will last the whole school day..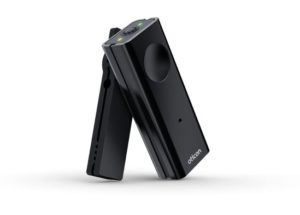 ReSound Multi Mic ($350): clipped onto clothing or on a desk, this device allows signals to be transmitted up to 25 metres away. Unlike the ReSound Micro Mic, this device can connect to loop and FM systems, making it perfect for school settings. This device is compatible with ReSound Up Smart paediatric hearing aids.
Widex FM-DEX ($340): a streaming device that converts signals from an FM receiver or telecoil and makes them audible directly through any Widex wireless hearing aids. It provides up to 10 hours of streaming, perfect for a whole day. Widex also provides a retention solution that is more suitable for children.
Oticon ConnectLine Microphone ($400): The clip-on microphone is worn by the speaker, and is transmitted directly to the hearing aids where speech is loud and clear. The distance range is up to 15 metres.
Contact us on 1300 848 335 today for a free, no obligation consultation with one of our qualified consultants. Hearing Choices stocks accessories from all the leading hearing aid brands and has a network of clinics located right around Australia.