The Hearing Aid industry
There are many hearing aid companies across the globe, but the technology advancements are based around eight companies, some who have been established for over 100 years.
These companies will have brands that you may be familiar with and are well-known due to their high quality hearing aids.
They generally have the latest break-through hearing aids. Their research reputable and well-founded. Here's an overview of the main players in the global hearing aid market:

Oticon – A Danish company, founded in 1904 by Hans Demant, who wanted to improve his wife's communication opportunities. He was inspired by Queen Alexandra of England, who wore a hearing aid at her coronation. 'People first' is the company's motto and they produce many outstanding devices with cutting-edge technology. Oticon, now a part of the William Demant Holding Group has been improving people's hearing and their lives for well over a hundred years.

Phonak – Phonak has been developing hearing aids since 1947. This Swiss company is a part of the Sonova group and produces hearing aids that are sleek and use cutting edge technology. 'Life is on!' is the Phonak maxim. They continue to lead the world in research and methodology to produce some of the most exciting hearing aids on the market today, including the introduction of the first 'made for all' (Bluetooth connectivity with Apple and Android products) hearing aid in 2018.

Widex – Another Danish company, Widex has a reputation as being an innovator in the hearing care industry. For over 60 years they haves been pushing the frontiers of hearing technology. They developed the world's first In-the-Ear (ITE) hearing aid, and ten years later followed it up with the first fully-digital ITE hearing aid. Widex is also a leader in sustainability with their Danish headquarters being completely CO2 neutral.

ReSound – ReSound is part of The GN Group and also situated in Denmark. The GN Group has almost 150 years of creating audio solutions. ReSound utilises this research & development expertise and was the first hearing aid company, in 2014 to produce made-for-iPhone hearing aids.  ReSound concentrates on providing the most natural listening experience to people with hearing loss and have become an industry leader in hearing aid technology in over 80 countries across the globe.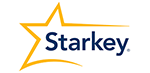 Starkey – An American-based company for over fifty years, Starkey has been creating world firsts in hearing aid technology. This includes the world's first custom In-The-Ear hearing aid (1971), and more recently the world's first 'Healthable' hearing aid (2019). Starkey not only believes in producing excellent hearing aids, but in connecting people and changing their lives. The Starkey Hearing Foundation, where people in need are fitted with free hearing aids, has assisted over a million people around the globe.

Signia – 'Life sounds brilliant' with this German company. Signia is now a part of the Sivantos group, which develops and manufactures a quarter of the hearing aids used world-wide. Originally a part of the Siemens' hearing aid division, it has a backing of 140 years of knowledge in the hearing device manufacturing industry. Signia strives to produce innovative and stylish hearing aids, recently introducing a jewellery-inspired hearing aid that has won much acclaim.

Unitron – This Canadian-based company is a part of the Sonova group and has been in the hearing aid business for over 50 years. Unitron says 'Hearing matters' and demonstrates this with many awards for their well-designed hearing aids. Currently, the only company to have a 'Flex' fitting system, Unitron's technology allows users to trial and upgrade all within the one hearing device, giving a unique opportunity for new hearing aid users.

Hansaton – This German company has over 60 years' experience, with the goal of optimal hearing for people across the globe. Hansaton works with audiologists and other partners to develop cutting edge technology, and innovative solutions for people with hearing loss. The company partnered with Sonova in 2015 and is also a leader in sustainable and ethical business practice. Supporting the Plant-for-the-Planet initiative, Hansaton makes environmentally-friendly hearing aid batteries.


Hearing aid research
Hearing aid technology changes rapidly with research centring on wireless connectivity, AI (artificial intelligence) and miniaturisation of hearing aid components.
We are now seeing smaller in-the-ear hearing aids offering Bluetooth connectivity and streaming options, hearing aids that connect seamlessly to Apple and Android devices without intermediary devices and hearing aids that not only help you hear better, but with AI, keep you connected to your world in so many different ways. Hearing aids can monitor your health, give you exercises to help keep your balance and translate languages.
'Hearables' are now the future of hearing aids.
Hearing aid stigma will be a thing of the past as the ear becomes the new wrist – people with and without hearing loss will be tracking their health, talking on their phone and connecting to the internet via the device in their ear.
Next Article –> Determining If You Have Hearing Loss