Costco Hearing Aids
Everything You Need to Know About Costco Hearing Aids
Costco has a hearing aid centre with specialised staff. They're trained to give hearing tests, products demos, and provide hearing aids for less. The centres use a sound proof booth to conduct hearing tests. But online reviews about Costco's services are very mixed.
To give clarity, we've addressed common questions about Costco hearing aids and available products so you have all the answers in one place.
What is the Costco Hearing test?
When you arrive at your local Costco hearing aid centre, the hearing aid staff will carry out your pre-booked hearing test. Hearing tests take approximately one hour to carry out, depending on the complexity of your hearing.
Costco centres have sound proof booths for their hearing tests. After the test, the hearing aid staff will discuss the results of the hearing test and what it means. At this point, the most appropriate hearing aid/s to suit your hearing loss and lifestyle needs will be recommended.
 What's the best hearing aid available for me?
To be honest, the "best hearing aid" is a myth. There isn't a singular hearing aid product on the market that is universally best for everyone. Many things need to be taken into consideration when recommending hearing aids, such as the degree of hearing loss, the physical size of your ear, and your lifestyle.  When these three things are evaluated, the best solution to your problem can be prescribed.
How much do hearing aids from Costco cost?
The price of Costco hearing aids vary, depending on brand and technology. The hearing aids range in price from just under $2000 to just over $3500 for a pair. This includes a three year manufacturer warranty.  There are Loss and Damage warranties which have differing terms dependent on the vendor/product.  All appointments are provided as a member service, with no cost incurred for any appointments for our members.
Costco Hearing Aid Price List
Model
Technology
Prices
Kirkland Signature KS 9
Premium
$1899.99 per pair
Phonak Brio 4
Phonak Brio 3
Premium
Premium
$1899.99 per device
$1899.99 per device
Philips HearLink
Premium
$1699.99 per device
Resound Preza
Premium
$1799.99 per device
Rexton Adore
Premium
$1349.99 - $1699 per device
For the most up-to-date pricing information, we recommend you give your local Costco hearing centre a call and ask their staff directly.
*can vary depending on location.
Costco offer hearing aids from five suppliers: Philips, Phonak Kirkland Signature, ReSound and Rexton. Here's a quick rundown of a few Costco hearing aids: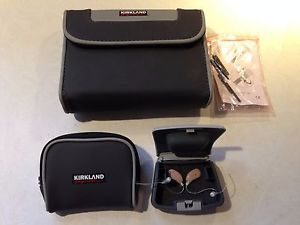 Kirkland 
The Kirkland Signature KS 9.0 are RIC hearing aids available in five distinct colours. The KS 9.0 gives you discreet and natural listening comfort, optimising speech in complex listening environments. The hearing aid's smart technology automatically adjusts to your surroundings. KS 9.0 is Bluetooth enabled for streamed phone calls and wireless connectivity to most Bluetooth compatible devices. This Costco hearing aid comes with a kit containing: a cleaning cloth, cleaning brush, presentation case, travel pouch, and 10 zinc-air batteries. Costco doesn't publish the exact specifications of the signature series.
Rexton
The Rexton Adore hearing aids offered at Costco come in a number of styles and options. The Adore Li RIC and slim StyleLine styles are rechargeable devices which also provide direct streaming for iPhones. These models and their other styles (including custom models Adore FS, ITC, CIC and IIC) use MyCore technology. Rexton Adore hearing aids are completely automatic, switching between your daily listening environments with ease.
The Rexton devices also pair with a smartphone app which allows you to change the hearing aid programs, adjust the volume and direction of the hearing aid microphone. Rexton also has a number of accessories that pair to make connecting to your phone, TV and other devices as seamless as possible.
ReSound
The ReSound Preza is a RIC style hearing aid, offering a rechargeable model if required. The Preza has excellent sound processing features with more speed, power and memory. Sound is balanced and clear and automatically adjusts to your environment. Connectivity with Bluetooth enables you to stream directly from almost any audio source, including phone calls, music and podcasts. You can use the ReSound  Smart 3D app for personalisation of your hearing aid settings to suit your listening environment.
Phonak
Phonak offers two models of hearing aids: Phonak Brio 4, and the Phonak Brio 3. Brio 4 is a RIC style hearing aid, providing smart technology that automatically adapts to your listening environment. These hearing aids have direct connectivity to any Bluetooth enabled device (both iOS and Android smartphones). The Brio 4 hearing aids also have a telecoil option to provide connectivity in venues with hearing loop technology, such as churches and theatres.
The Brio 3 range of hearing aids offer the power BTE and custom ITE. The BTE will suit those with severe to profound hearing loss, providing a fully automatic hearing aid with an increased frequency range. The custom ITE Brio 3 comes in a variety of colours and models for discreet listening.
Philips
The Philips HearLink RIC hearing aid increases the ease of listening, even in noisy environments. The SoundMap Amplification feature enhances clarity while Noise Control technology reduces background noise. Direct Bluetooth connectivity is available for iPhones with the Rexton HearLink. For Android devices the Philips AudioClip is required. This robust hearing aid is available in six colours and has a rechargeable battery.
What are the benefits of buying hearing aids from Costco?
There are several benefits to buying Costco hearing aids. The number one reason is the ability to have everything done at once. By everything, we mean the hearing test (if applicable), product demos by trained staff, and consultations for finding the hearing aid that work best for your needs.
Costco gives a 180-day money back guarantee. If you're not happy with Costco, you can return them within those six months. As a bonus, Costco also offer check-ups after initial purchasing to ensure the hearing aids:
Fit properly
Work as intended
Or need fine-tuning
These are all free of cost.
The top reason people decide to purchase Costco hearing aids are because they're cheaper and because of Costco's level of service. If you were to buy the exact same hearing aid from a location outside of Costco, the prices will be more expensive. The reason is because Costco can buy hearing aids cheaper from manufacturers than individual or small businesses.
Considerations when buying hearing aids from Costco
One of the problems with Costco hearing aids is that they can be considered 'old' technology. Costco doesn't get the newest hearing aids that are available and the devices can be six months behind the rest of the market.
Waiting times for hearing test appointments at Costco has been significantly reduced. Costco aims to have only a one week wait for customers. There are 12 Costco locations across Australia with some centres having up to three hearing test booths – this means a shorter wait for appointments. Costco centres are open Monday to Saturday, between 8am – 6pm, with some centres available for appointments up to 7.30pm.
Should I be buying hearing aids from Costco?
We can't answer this with certainty for you. Read all the available information, weighing up the advantages and disadvantages of Costco hearing aids, then base your decision off of your personal needs and requirements for hearing aids, performance, and reliability.
Hearing Choices can provide you with unbiased and independent advice about the best solution for you. Give us a call and one of our consultants will ask a variety of questions to determine the best hearing aids for your needs.
At Hearing Choices you can save up to 40% on leading hearing aids and therefore the price gap between Costco and leading brands is very small. You also get local care from an audiologist meaning you won't need to travel to Costco for adjustments. We have convenient locations around Australia and can therefore put you in touch with the very best local Audiologist at Australia's best prices.