On May 1 2019, Starkey released its new line of hearing aids in Australia – the Livio and the long-awaited Livio AI 'healthable' hearing aid.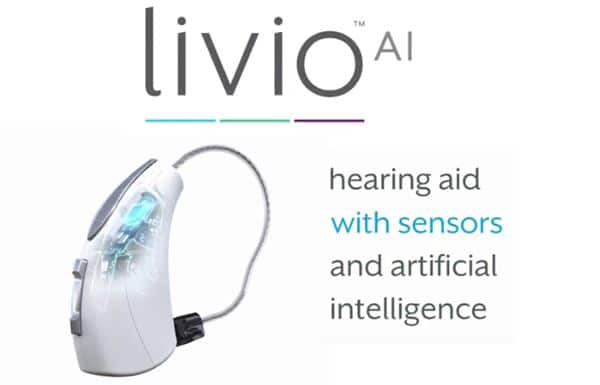 The Livio contains Starkey's latest technology based on the Thrive platform. The Livio AI (artificial intelligence) has all the features of the Livio and then takes hearing and health care to whole new level. Both of these hearing aid models are compatible with wireless accessories, have near field magnetic induction (NFMi) and 2.4GHz Bluetooth connectivity. Starkey state that these features allow users to perform better in a dynamic real-world environment by up to 50%. There is also a new Thrive smartphone app which comes with a four band equaliser, allowing you to adjust frequencies in the low, mid, high and ultra-high ranges. This feature allows the user to customise their listening environment. There is a geotag facility in the app so you can tag your favourite places and it will remember how you customised your hearing aid to that place. Next time you visit, it will automatically adjust your hearing aid to your preferred settings. The Livio and Livio AI are compatible for phone call streaming for a number of both Apple and Android phones. To see if your smartphone is compatible, check Starkey's list. Both also offer the rechargeable option with Lithium-ion batteries and tinnitus programs.
There are three technology levels of the Livio – 1600, 2000 & 2400. The Livio AI, with all its unique features is only available in Premium 2400 level.
So what makes the Livio AI different, not only from the Livio but from all other hearing aids currently available on the market? There are four main points of difference that make this hearing aid not only a hearing device, but a health tracking device.
The Livio AI will track your health using integrated information received from the Inertial Measurement Unit (IMU) in the hearing aid circuitry. This technology incorporates an accelerometer and gyroscope to measure the wearer's position and body movement. The IMU or 'on-board sensors' assess your physical and social activity while you wear the hearing aid. Using the Thrive app, users will get a 'Brain and Body Score' from their daily endeavours. The Brain and Body score uses a point system in two categories. Firstly you will get points for how much you move your body. It will count your steps, track your physical activity (time-related) and give you points for just moving around. This will give you an overall 'Body Score'. It then measures how much brain benefit the hearing aid is providing across three parameters – the number of hours you wear your hearing aid, how much you engage with other people, and the active listening environments you participate in. The aim of the Brain and Body score is to make the wearer more physically and socially active. Research has shown there are links between hearing loss, dementia, anxiety and isolation and the Livio AI aims to reduce the risk factors associated with being sedentary and reduced social interaction. The Body and Brain scores are combined to give you a picture of your overall health and wellbeing.
The second standout feature is the Thrive Hearing app where it allows for hearing care anywhere. This means your Audiologist or Audiometrist can remotely adjust your hearing aid. With this feature, you contact your Hearing Healthcare Professional and let them know what sounds need adjusting in your hearing aid. They will then change your hearing aid settings remotely and send them to you to upload to your hearing aid. This saves you time and you can try the new settings in the comfort of your own environment.
The third point of difference is really cool. The Livio AI comes with a Language Translation feature on the Thrive Hearing App. It's hard enough travelling to a place where you don't speak the language, let alone doing it with a hearing loss. But this new application will broaden your horizons – literally! There are 27 different languages available in the Livio AI. What happens is the hearing aid will translate the speaker's language right into your hearing aids. And it works in reverse with your speech being translated to text for the person you are communicating with to read off your phone.
This final major point of difference is all about safety. A huge problem for elderly people is the likelihood of falling. The on-board sensors of the Livio AI have been designed to also be used as fall detection sensors. Recent studies suggest that having a hearing loss increases the risk of falling threefold for people aged over forty. The Fall Detection system in the Livio AI appears to have benefits over existing medical alert systems which are worn around the neck. With two hearing aids, there are two fall detection sensors (other systems only have one sensor). These sensors, being situated on the head give better and more accurate results in detecting falls. If the wearer does have a fall, their loved ones will receive a text message, alerting them that you need assistance. What a fantastic feature that assists wearers in maintaining safety and health.
The 'healthable' Starkey Livio AI is full of features with more to come. Right now you can control your streaming with the Tap Control to start or stop streaming into your hearing aid. Just tap your hearing aid twice and the streaming sound is muted for you to hear speech or sound from a different source, then tap it twice again to restart the streaming. And in the future, a heart rate sensor will be included. This will monitor heart rate and heart rate recovery after physical activity. This will add to the hearing aid's 'healthable' portfolio. The link between hearing loss and cardiovascular disease is now well-documented and this feature will take an integral part in the Livio AI and its overall health tracking ability.
If you want a hearing aid that will give you not only improved hearing, connectivity and rechargeable options, but also introduce you to a way to keep healthier through improved hearing and health monitoring, the Livio AI is a hearing aid worth considering.