Using Headphones With Hearing Aids
While there may be some uncertainty regarding whether you can use headphones when you are a hearing aid user, this article will discuss the best headphones for you depending on which style of hearing aids you wear. What you will find with these devices is that they will provide additional amplification and assistance for when you are watching television or listening to music.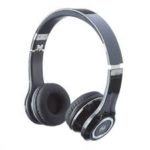 Before you do wear headphones with your hearing aids however, it is important to ensure that you do not play audio too loud through them.
Now that you have hearing aids, you will be able to hear more without a higher intensity. Even though you have been fitted with hearing aids, your hearing loss can still be progressive or worsen due to noise exposure. Therefore, keep headphone use to a minimum, and let your ears have breaks to prevent your hearing loss from getting worse.
A tip to avoid turning up the volume of your headphones too high is to choose noise-cancelling headphones as you will not have to work as hard to block out background noise.
Headphones for People with Hearing Aids
If you use in-the-ear (ITE), in-the-canal (ITC), completely-in-canal (CIC), and invisible-in-the-canal (IIC) hearing aids, the choices in styles are more as there is nothing covering the back of your ear.
A style to take advantage of if you use custom hearing aids is bone-conduction headphones. These hearing aid headphones transmit the sound via vibrations directly to your cochlea – bypassing your outer and middle ear.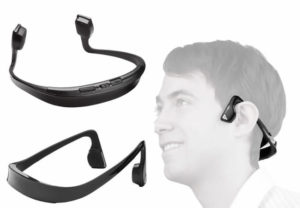 On-ear headphones, like their name suggests, sit on the ear. They transmit their sound through the opening in the centre of the headphone that sits directly over your concha where the microphone of your hearing aids will pick up the signal.
While this style is mostly recommended for CIC and IIC styles, they can also be used with ITE, ITC, and behind-the-ear (BTE) and receiver-in-canal (RIC) hearing aid. However, with these styles there may be some feedback. This can be overcome by repositioning the headphones.
Over-ear headphones are larger than on-ear headphones as they cover your whole ear. While this style is better for ITE, ITC, CIC, and IIC styles, they can also be worn with BTE and RIC styled hearing aids.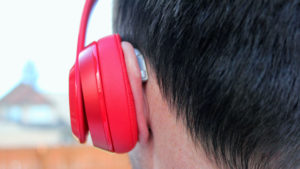 Feedback may be an issue with BTE and RIC styled hearing aids so to prevent this, you can try to adjust your headphones so that they do not apply too much pressure on the hearing aid.
Best Headphones for Hearing Aids
Bone-conduction hearing aid headphone:
AfterShokz Trekz Titanium: these bone-conduction headphones are lightweight, comfortable, and sweatproof; making them perfect for those who wish to listen to music on their morning run or when running for the morning train. Whatever the use, these headphones deliver the sound through your cheekbones meaning that your outer ear can still pick up ambient noise. They also offer Bluetooth connectivity and six hours of streaming with one charge.
On-ear hearing aid headphones:
Bose SoundLink On-Ear Bluetooth Headphones: these headphones are Bose's first on-ear wireless headphones. They are featherweight, long-lasting with up to 15 hours of battery life, and provide amazing audio. By connecting it to your phone via Bluetooth, you can stream phone calls or audio and your hearing aids will be able to pick it all up through the microphone. These headphones also have dual microphones to reduce background and wind noise, which will be especially useful when answering a call.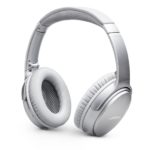 Over-ear hearing aid headphones:
Bose QuietComfort 35 Wireless Headphones II: with world-class noise cancellation, these wireless over-ear headphones are perfect for all hearing aid users. With a built-in Google Assistant, you can do anything from stream music to receive texts through the headphones. You can also control the level of noise cancellation from when you wish to receive ambient noise.
Hearing Aid Compatible Headphones
AfterShokz Sportz Titanium with Mic: at a much cheaper price point than the Trekz, these bone conduction headphones still provide comfort, and clear audio. They provide 12 hours of streaming, are lightweight and flexible, have a wide dynamic range, and has controls built into the headphones for added convenience. They transmit the sound through your cheekbones to allow for ambient sound to still enter your ear.
Beats EP: this one is for the music lovers. Never should you have to feel like you are missing out on listening to your favourite song or compromising quality. These on-ear headphones are lightweight, comfortable, and durable. It comes in multiple colours for the ultimate personalisation.
Sennheiser HD 206 Over-Ear Headphones: these over-ear headphones are comfortable and lightweight. In regards to audio, it is good-quality and with the addition of background noise attenuation, you will not have to worry about having the volume high to hear your music.
Wireless Headphones for Hearing Aid Users
AfterShokz Trekz Air: extremely lightweight bone conduction headphones that fit securely and comfortably on your head. It has Bluetooth connectivity and multipoint pairing, perfect for those who wish to connect these headphones to any device. They have 6 hours of battery life and dual noise cancelling microphones.
Beats Studio3 Wireless: these are over-ear headphones that are perfect for music lovers. They include Beats Pure Adaptive Noise Cancelling technology to ensure that you can listen to your music without any distractions.
Sony MDR-RF985RK Wireless Headphones: these over-ear headphones have a large wireless range, meaning that you will not have to miss anything. A battery life of up to 25 hours means that you can use it all day long without having to charge it. Furthermore, it boasts a wide frequency range, so with the help of your hearing aids, you will be able to listen to your favourite songs and movies without missing anything.
Hearing Aid Headphones with Microphone
Skullcandy Grind Wireless Headphones: these headphones provide Bluetooth connectivity and 12 hours of battery life per charge. There is a built-in microphone and remote, perfect for when on the go and for added convenience. These on-ear headphones are designed with plush pillows and a metal headband for security and comfort.
Sony MDR-ZX110AP Headphones: these on-ear headphones are lightweight, portable, and cushioned for extra comfort and to prevent your hearing aids from being squashed. They also have a built-in remote and microphone, meaning that you can answer phone calls on the go, as well as changing your music. With a wideband frequency range, you will never miss a tune again.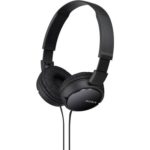 While most hearing aid headphone options are recommended for custom styled hearing aids, you can still use them with BTE and RIC styled hearing aids. If you wish to do this, you need to be prepared to wear your headphones at a slightly different angle than usual as the microphone of these hearing aids do not sit within the ear canal.
If you find that headphones are not for you, invest in some Made-for-iPhone hearing aids as they will allow for wireless streaming from your iPhone directly to your hearing aids. You can stream any audio from your phone calls to videos. For more information regarding Made-for-iPhone hearing aids, contact us today.
Contact us on 1300 848 335 today for a free, no obligation consultation with one of our qualified consultants.