Six Steps To Successful Bluetooth Pairing For Your Phone
Many hearing aids come with Bluetooth and can be paired to various devices for streaming phones calls, audio and music. Every brand of hearing aid may be slightly different and the steps below will cover most hearing aids.
Pairing your smartphone is the best place to start, particularly if you wish to stream phone calls directly to your hearing aids.
Go through the process with your Audiologist or Audiometrist before you leave the clinic to make sure not only is your Bluetooth paired to your phone, but also that you understand how to do it yourself once you get home.
Sometimes the Bluetooth pairing can 'break' and you will need to know how to re-pair your hearing aids with your mobile phone.
The steps below – for both iPhone and Android devices – will assist you in this process.
iPhone
Have a fresh battery in your hearing aid. Leave the battery door open
On your iPhone, go to Settings then Bluetooth. Check your Bluetooth is turned on
Close the battery door
Go back to Settings on your phone, find General and Accessibility
Once in Accessibility, tap MFI Hearing Devices, tap the name and model number of your hearing aids. You will see a 'tick' when the connection is successful
Tap Pair to finalise the process. With two hearing aids, you will get two pairing 'requests'. Accept both of the requests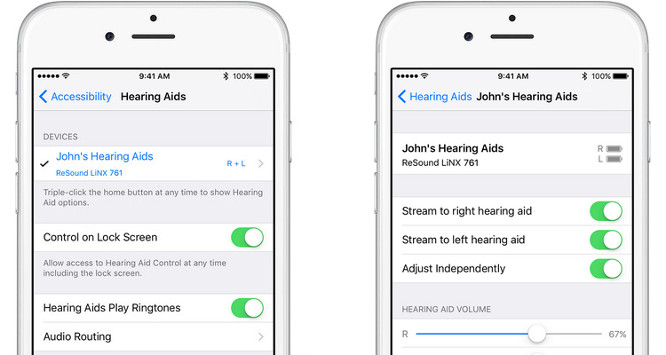 Android
Not all Android phones will connect directly to your hearing aids and may require an intermediary device such as a phone clip, although the majority of the main brand hearing aids now have direct streaming to Android phones.
Have a fresh battery in your hearing aid. Leave the battery door open
Check the smartphone app you downloaded to see if it has a pairing feature, If this isn't available, go to Settings then Bluetooth on your phone.
Check your Bluetooth is turned on
Close the battery door
You can either now use the smartphone app or pair your hearing aids through the phone in a manual process. For manual setup, under Bluetooth look for the name and model of your hearing aids under Paired Devices
Tap on the name for each of your hearing aids to finalise the Bluetooth connection to your devices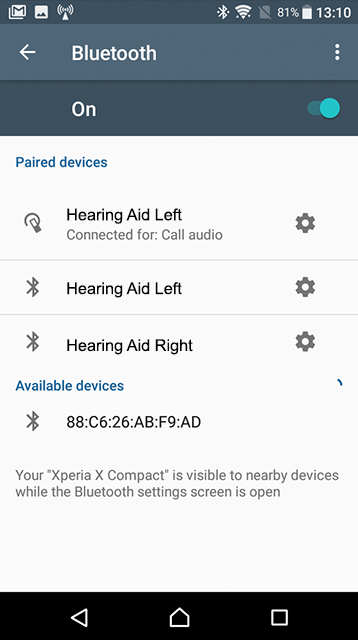 Following these six steps, to successfully pair Bluetooth to any enabled smartphone for hands free phone calls. If you find these steps haven't worked for your phone and hearing aids, check your hearing aid manufacturer's website or discuss the pairing process with your clinician.
It's also worthwhile to check how to answer phone calls through your hearing aids, as this will vary also. Some hearing aids will stream the phone call to both hearing aids and allow you to tap on your hearing aid to answer calls, even if your hearing aid is in another room.
Once you're paired and understand how to use this technology, you'll find phone calls will be clearer via your connected hearing aids.
Need Help Finding Hearing Aids Or Want To Arrange A Risk Free Trial?