What hearing aid brands and manufacturers can you trust?
By Lachlan Smith – Head Audiologist B.Sc (VS, Path). M.AudSt. MAudSA(CCP).
The Australian hearing aid market is littered with products. On last count I think there were 675 different products for sale in total, roughly 8-10 different brands produced by just 6 global manufacturers.
A common question people ask me is:
"How can you really tell which brand boasts the best hearing aid? There are conflicting arguments about every single brand. Whose advice can I really trust?"
Excellent question. With so much contradicting information it really is incredibly difficult to have confidence in your decision. Especially when a clinician, who is meant to be impartial and trusted, gives you a totally different answer to another.
Most people would have no idea what makes one hearing aid brand good or bad.
That's why we started Hearing Choices a few years ago. Our number 1 goal was to become an independent and unbiased resource helping Australians make the right decision when it comes to purchasing hearing aids.
Ok now back to your earlier question… The easiest way to answer which brand of hearing aids is best is by referring to the below brand positioning map.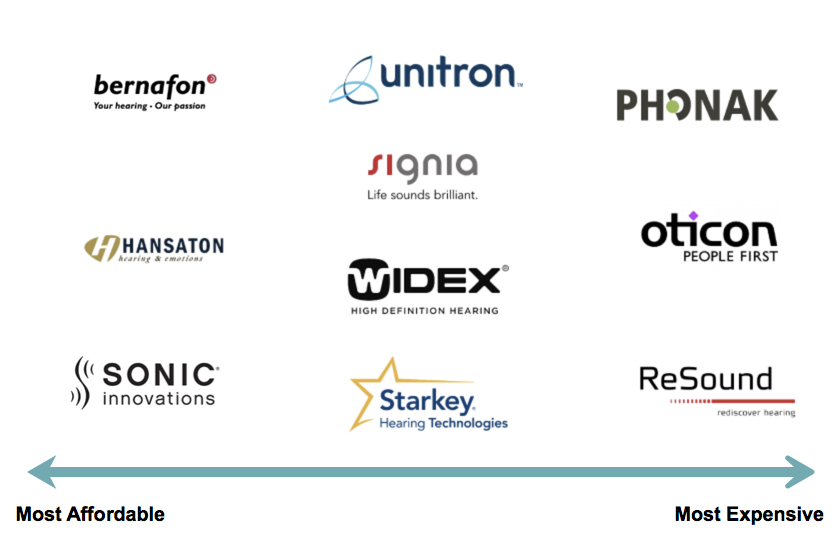 Please note: All of the brands above are reputable and generally well supported in Australia.
I do need to make clear that the positioning above is mainly ranked by price and not quality. Many will argue that price and quality are interlinked. However, price alone does not make a top end hearing aid brand better than a mid-range one.
The best use of the table above is to ask yourself a couple of questions:
Is the hearing aid brand I've been recommended referenced above?
If not, how confident am I going with:
A little known/obscure brand with little grounding in Australia?
A brand that is quite well known but not recommended to me?
I can't tell you the amount of times people come to me after purchasing a cheap "Hearing Aid" online only to find its a little more than useless than treating their hearing loss.
Is the price I have been quoted for hearing aids consistent with the rankings on the table above?
After all, you can see how problematic it'd be if a clinic quoted you premium prices for affordable-end prices!
If your answer to both questions is yes then you're almost on your way to identifying and buying a decent quality, accurately priced pair of hearing aids.
In Australia there is no recommend retail pricing for hearing aids, it's completely up to the individual company to charge what they like and it's up to the consumer to research if they are getting a fair deal.
Need Help Finding The Best Brand? Sign Up For a Free Consultation!
I say almost on your way because there's one bit of vital information that you need as a hearing aid consumer.
A majority of the hearing aid clinics in Australia are either owned and vertically integrated with hearing aid manufacturers or are large national chains with supply agreement with a limited number of manufacturers.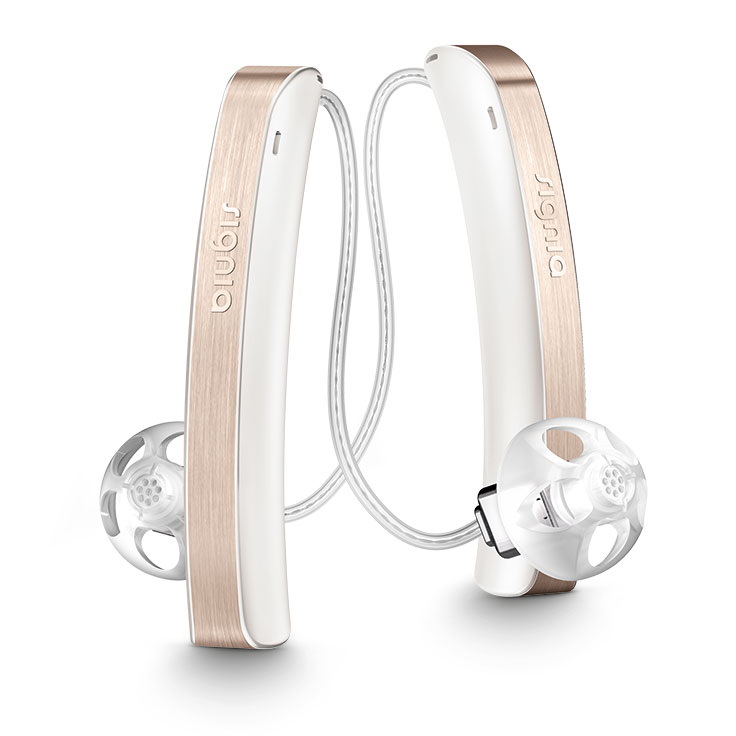 So what does that mean for me you might ask?
It means a great deal if you care about getting independent, unbiased advice on the very best hearing aid product recommended for your hearing loss.
Any time you visit one of these clinics, they'll only recommend you the products their parent company produces and sells.
Furthermore, 9 times out of 10 their pricing is completely out of whack with my product positioning table above.
So how can you get the best advice?
To ensure you're receiving the best possible hearing care and advice, make sure you visit a qualified clinic.
These clinics are in the minority in Australia but provide superior level of service and care than major chains.
Also, these clinics are free to recommend any brand of hearing aid. They're not tied to any one hearing aid brand meaning their hearing aid recommendation to you will be honest, frank and consistent with your hearing loss symptoms.
So how much should you pay for hearing aids?
While pricing has come down quite considerably with the emergence of online players and discount providers, the major high street clinics still tend to sell hearing aids 20-30% more than most independents.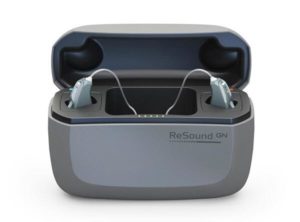 The following is what you should be paying at each technology level.
Entry Level: $2,500 – $3,500
Mid Range: $3,500 – $5,000
Advanced: $5,000 – $7,000
Premium: $7,000 – $8,500
The style of the hearing aid shouldn't impact the price that much, the technology level is the main driver behind the price.
The better the technology the better the hearing aids will deal with complex listening environments. They will also have more automatic programs and features meaning they will automatically adjust depending on which environments you're in without having to make any manual adjustments to the program or volume of the hearing aid.
So what hearing aid brand should i choose?
The brand of the hearing aid is secondary to the skill and expertise of the clinician who fits the device. By far and large the actual brand of the hearing aid doesn't matter, all the major manufacturers produce excellent devices and sell millions of products every year. The important thing is that your getting a device suitable for your hearing loss, at a price you're comfortable paying and fitted by clinician that you trust and knows what they are doing.
Next Steps
This post should hopefully have you feeling a bit more confident about choosing a quality pair of hearing aids.
If you're in the market for a new pair of hearing aids, get in touch with us at Hearing Choices for frank, honest and independent hearing aid advice and service.
Lachlan Smith
​
B.Sc (VS, Path). M.AudSt. MAudSA(CCP).
Lachlan Smith is chief Audiologist at Hearing Choices, runs his own clinics and is the only person in Australia with a Masters Degree in both Audiology and Optometry.