The 5 Best Hearing Aids For 2022
See Also:
Best Hearing Aid List
The latest hearing aids for 2022 have exceptional sound quality, Bluetooth streaming and rechargeable batteries which means that no matter which brand or device you pick, you'll be getting some of the best technology on the market today.
Below we have listed some of the latest devices available and why they are worth considering for your first or next pair of hearing aids.
If you have any questions or need some advice, give us a call on 1300 848 335.
Why We Like It
Powered by artificial intelligence which learn your preferences over time and improves the hearing aids' performance.
Excellent all round performance in noise.
Made for iPhone and are especially good for streaming and listening music.
Outstanding telehealth support with Widex Remote Care
Why We Like It
Excellent clarity in noise, especially for speech.
Best in class rechargeable batteries.
Made for iPhone which means you can stream phone calls and music directly to the hearing aid.
The first of the unique Microphone and Receiver-in-the-Ear (M&RIE) class of hearing aids
Why We Like It
The Unitron Discover platform is made for all phones, iPhone and Android streaming.
The new chip allows for multiple automatic programs which seamlessly adjust based on your environment
The unique Unitron Flex program means you can easily trial multiple technology levels to ensure you are getting the best technology for your listening needs.
Great lithium-ion battery option available in a discreet package
Why We Like It
MoreSound Amplifier moves away from conventional hearing aid compression
Uses Deep learning for incredible sound quality and optimisation
Fast, reliable lithium-ion rechargeable solutions, for a full day of power


Why We Like It
Phonak's brand new Autosense OS 40 system means fewer manual adjustments and seamless automatic modifications depending on your listening environment.
The Phonak Paradise allows direct connectivity with both for iPhone and Android.
Excellent directional microphones for noise cancellation in noisy listening environments.
What Main Features Should I Look For?
Best Hearing Aid Styles Types
The two main types of hearing aids are those that go in the ear, and those that go behind the ear.
In the ear models can range from the tiniest, most invisible hearing aids that are worn inside the ear canal (sometimes referred to as CIC or IIC hearing aids), to the larger low profile hearing aids that can be seen in the bowl of the outer ear (ITE or ITC hearing aids).
Behind the ear (BTE or RIC – Receiver in Canal) styles are available for those who find that wearing a hearing aid inside of the ear is uncomfortable for them or they require hearing aids with more options. They also range in size and style, and are the style used most often for people with severe or profound hearing loss. Each style of hearing aids has its own advantages and disadvantages for you to consider when choosing the best hearing aids for you.
Best Technology
Another important consideration when choosing the best hearing aid to fit your needs is the technology in the hearing aid itself. While there are many basic models of hearing aids to choose from, technology has advanced to make many hearing aids more automatic and customisable.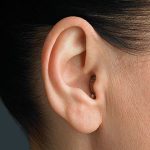 For example, many hearing aids produced today are using wireless technology to both give the wearer more control over the customisation of their device, as well as to make the two separate hearing aids operate like one device, which makes the use of hearing aids feel more like natural hearing. Some of the best hearing aids are equipped with Bluetooth connectivity so that the hearing aid can be connected to a wireless device such as a tablet or smartphone, and those devices can send their electronic signals directly to the hearing aid for making phone calls, listening to music, watching videos, and connecting to the TV. Now, with smartphone apps from most of the leading hearing aid manufacturers, your phone can also act as a remote control for your hearing aid.
Many of the best hearing aid brands have technology to assist with tinnitus management. Tinnitus programs can be set on the hearing aids and adjusted by the wearer through a tinnitus app on their smartphone. The Widex Zen is one such tinnitus program that has good results.
Hearing aid users can now expect to have devices that not only provide excellent noise reduction but have an extended frequency range for improved hearing of high frequency signals. Not only are modern hearing aids now rechargeable, and have Bluetooth and Telecoil options, but they also have artificial intelligence and provide improved speech understanding for more natural sounding hearing.
What are Some of the Best Hearing Aids Brands?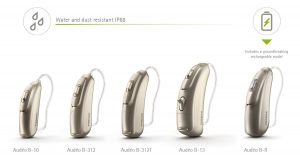 Widex, Starkey and ReSound are great brands to start with if you're looking for a good mix of excellent sound quality as well as best in class Bluetooth streaming and phone connectivity.
Phonak makes a few excellent models of hearing aids, including both behind-the-ear, and in-the-ear models. Just released is the Phonak Paradise, which builds on the success of the Audéo Marvel hearing aids, including a tap sensor for ease of use. They also make the Phonak Virto series, which range from a small, discreet in-the-canal hearing aid that is virtually invisible to outside observers, to a larger low-profile model that rests in the bowl of the outer ear for those with more severe hearing loss. The Phonak Audéo range of hearing aids come 'Roger Ready' and connect directly to this fantastic accessory for improved speech understanding in very complex listening environments.
Oticon also makes a wide range of hearing aid models that go both in the ear and behind the ear for adults and children. The OPN S line of hearing aids gets consistently good reviews from users, and comes in a wide range of options, from those that are are barely noticeable even for the wearer, to those that rest behind the ear for wearers with more severe hearing loss.
Oticon makes some of the best hearing aids on the market.
You can view a complete list of hearing aid brands on the chart below
The first step in selecting the best hearing aids for your needs is to make an appointment with a hearing care specialist who can assess your hearing loss, lifestyle and find an option within your budget.
All the hearing aids listed on this page are considered top tier devices and are suitable of treating a wide range and type of hearing loss. Ultimately, the best hearing aid for you is the one that fits your hearing loss, your lifestyle and of course your budget.
The most important thing is to find a trusted local hearing care professional to program and fine-tune your hearing aids to match your hearing loss.
The audiologists at Hearing Choices want to help you to find the best solution for your hearing loss and can guide you in the right direction to find what works for you individually.
How much do the best hearing aids cost?
Hearing aid prices vary mainly by the technology level of the hearing aid you end up with. In general, the basic or standard level hearing aids start from around $1,500 – $2,800 for a pair anywhere north of $7,500 a pair for hearing aids with the very best technology.
The main difference between the technology level is how well the hearing aids perform in more challenging listening environments. The more expensive hearing aids generally have better performance in noise and more automatic programs for different listening environments.
As a general guide expect to pay the following prices for hearing aids.
| Technology Tier | Hearing Aid Prices |
| --- | --- |
| Standard | $1,500 - $2,800 |
| Advanced | $2,800 - $3,500 |
| Premium | $3,500 - $4,400 |
The price of hearing aids also depends on the level of service included with the devices. Some companies sell hearing aids packaged with an unlimited amount of service and tuning appointments at no additional costs while others 'un-bundle' the price of the service from the cost of the hearing aid itself.
Service is a critical component of the purchase as clients generally need a number of follow-up appointments to get the most out of their hearing aids so when comparing prices of hearing aids, make sure you are comparing not only the price of the hearing aid itself, but also the level of service included with the hearing aids.
Are there subsidies available for hearing aids?
If you are a pensioner or returned serviceman you may be eligible to receive partially or fully-subsidised hearing devices and services under the Hearing Services Program. This
program is run by the Australian Government*.
Eligibility categories in this program include:
Senior Australian holding a Pensioner Concession card
Receiving a Sickness Allowance from Centrelink
Department of Veteran's Affairs

Gold card holder
White card holder

Dependent person of either above category
Australian Defence Force member
Referred by Disability Employment Services Program
Participant in the National Disability Insurance Scheme (NDIS)
If you would like assistance with claiming the subsidy, please contact us so we help you determine the benefits you're eligible for.
Advancements in Hearing Research
Hearing aid manufacturers are working to continually update the technology in their hearing aids. Bluetooth and rechargeable hearing aids, as well as advancements in speech understanding and noise reduction have been at the cutting-edge of hearing aid technology in the last decade. Now, advanced hearing aids come with Artificial Intelligence (AI) and the ability to have flexible appointments with your hearing specialist with tele-audiology. Hearing aids are also becoming health trackers, with the introduction of Starkey's  AI hearing aids – healthable hearing technology.
The science of audiology isn't only involved with developing hearing aid technology. Research into all the aspects and conditions of the auditory system is ongoing. Study results are constantly emerging on many topics, including possible ways to restore hearing, tinnitus treatments and the links between hearing loss and dementia.
(*T&C's apply, see HSP website fore more details)